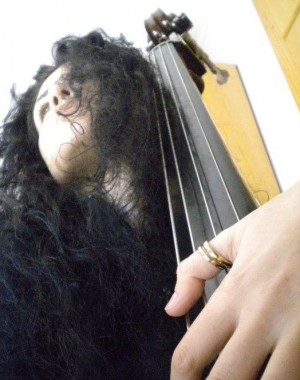 Cinzia Guidetti is a journalist. She graduated in "Science and technology of figurative arts, music, events and fashion", specializing in music, at the Pisa University. She attended multiple courses on musicology and musical journalism and masterclasses by Vincenzo Martorella, Stefano Zenni, Luca Bragalini, Luigi Onori, Franco D'Andrea e Javier Girotto. She attended courses on editing and editorial layout. She plays saxophone and bass guitar, and she is studying jazz double bass. She has been part of a few Tuscan orchestras and bands. She has contributed articles to specialized magazines (JazzIt, Jazzitalia, Sound Contest, Extra Music Magazine) and wrote music related pieces for local newspapers (Continuum, City Music Journal, La Gazzetta di Lucca, La Gazzetta del Serchio and La Gazzetta di Viareggio).
She was part of the jury at "Premio Lucca Jazz Donna" in 2010, 2012 and 2014, and part of the festival staff from 2009 to 2015.
In 2011 she worked at the Lucca office of the "Fondazione Giacomo Puccini", to reopen the Puccini Museum, organize musical events (such as concerts at the Teatro del Giglio), and as press agent for the museum.
She also worked as press agent for the "CG Free Music Experience & Wine 2014″ in Pescara and for the photographer Riccardo Bonuccelli and the l'Accademia della Musica "F. Geminiani" di Altopascio.
She worked as music history teacher at the "Jam Modern Music Center" in Lucca, at the "Academy Music School" in Pisa and at the "F. Geminiani Music Academy" of Altopascio.
She is currently the official photographer of the "Anfiteatro Jazz" festival in Lucca, and the press agent for the "Improvvisatore Involontario" collective.
She works as a journalist for the newspapers "La Gazzetta di Lucca", "La Gazzetta di Viareggio", "La Gazzetta di Massa e Carrara", "La Gazzetta del Serchio" and "La Gazzetta di Pistoia".
Blog: http://cinziaguidetti.wordpress.com/
Photo: http://cinziaguidetti.tumblr.com/
Twitter: https://twitter.com/CinziaGuidetti