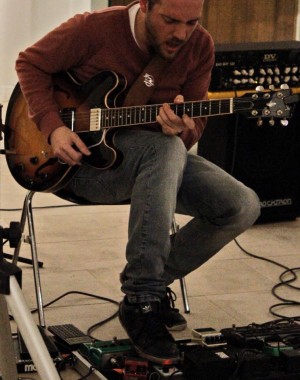 Santi Costanzo (Catania, 1981)
Santi Costanzo is a guitarist, improviser and composer from Catania, Sicily.
Trained in Catania under the guidance of composer and guitarist Paolo Sorge, Santi Costanzo mainly focused his studyon the search for an aesthetic and linguistic coexistence of free improvisation and compositional elements coming from jazz, contemporary classical music and other musical genres.
Over the years, he has workedin different formations, from small combos to big bands, some of these directed by prominent names in international jazz, Keith Tippet and Mathias Ruegg among them.
Also committed to pure sound experimentation, perceived as a link between a multitude of art forms, he has musicalized different literary works by Italian writers: "Il gabbiano di Torrefiamma", by Silvia Bellia; the poetry booklet "Lo sfasciacarrozze", by Riccardo Raimondo; the readings of the collection "Il poteredeicoriandoli", by Antonino Di Giovanni, Giovanni Caviezel and Chiara Tinnirello.
He has composed music for exhibitions by photographer Francesco di Giovanni, and he has also composed music for the theatre. Together with Ferdinando D'Urso, he has composed and performed the musical score for the play "Roberto Zucco", staged by the Molo2 theater laboratory and directed byGioacchino Palumbo.
He has recorded his first album, "Deeprint", in 2016, for the ImprovvisatoreInvolontario label. Awarded with honorable mention among the best albums of 2016 in the Avant Music News journal, the album has been recorded and performed together with saxophonist, flutist and composer Carlo Cattano, saxophonist Fabio Tiralongo and drummer Alessandro Borgia.
Website http://www.santicostanzo.com/