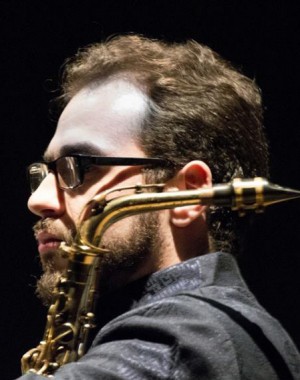 Catania, 1988.
He began to study the saxophone with Carlo Cattano.
He played with the Cattano Jazz Ensemble (2007), with the CESM Lab Orchestra (2011), for the premiere of Conversazioni Geologiche by Alvin Curran (2009) and for the European premiere of Sonic Genome by Anthony Braxton (Turin, 2015). From 2013, Ferdinando D'Urso plays the baritone and alto saxophone with the rock-jazz quintet Clockwork Groove; they recorded and released "Waiting for Injection" (SLAMCD560).
In 2012 he graduated in Musicology at the Bologna University (110/110 e lode) with a thesis on Gunther Schuller and the birth of third stream.
In 2012 he founded a trio, I Giganti della Montagna, and recorded his first album "L'arsenale delle apparizioni" (SLAMCD548) with all original compositions. With I Giganti della montagna he recorded two other works: "Oi Dialogoi" (SLAMCD555) and "Io sono tre" (II-49).
In 2016 he won the Second prize during the international contest "Amigdala".
He obtained the title of Most Distinguished Musician (8.2) during the Ibla Grand Prize 2016.