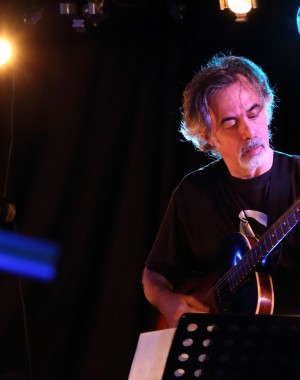 Giorgio Casadei: guitarist, composer, arranger, teacher and drawer. Rimini, 1962.
He graduates from DAMS (Disciplines of Art, Music and Showbusiness) with a thesis on "Interferences between musical cultures. The role of improvisation".
He plays guitar and piano, he composes, arranges and practices different improvisation techniques. His main project have been: Rimini Beach Party, Ella Guru, Trio Magneto, Musica nel Buio, Orchestra Spaziale, Sonic Uke Orchestra, Trio Galactus.
He had had collaborations with a number of musicians including Massimo Semprini, Ivan Valentini, Stefano Zorzanello, Enrico Merlin, Vincenzo Vasi, Alessandro Lamborghini, Tony Coe, Chris Cutler, Uri Caine, Enzo Favata, Luigi "Lullo" Mosso, Marco Dalpane, Tiziano Popoli, Stefano Scodanibbio, taking part in festivals in Italy and abroad.
He composed and performed music for silent movies for the Cineteca di Bologna. He has composed film scores for a number of movie directors, including Paolo Fazzini, Marco Cruciani (for the 2005 movie "Tutti tu", and for the 2006 movie "Di colore vagabondo"), and Marco Bertozzi (for the 2008 movie "Predappio in luce", the 2011 movie "Rifugiati a Cinecittà" and the 2017 movie "Cinema grattacielo").
He has curated the musical background of public readings and shows for the writer Ermanno Cavazzoni, and, in 2013, he has authored the musical score of the movie "Vacanze al Mare" with Vincenzo Vasi.
He has contributed live music to performances of the painter Andrea Chiesi, and composed the soundtrack for a short movie on his paintings, "Il Rumore e il Nero". He has also performed (with his combo "Trio Galactus") with the painter Marino Neri for a live drawing show. With the Sonic Uke Orchestra he has also performed a live soundtrack for the animation movies of Beatrice Pucci, Alessia Travaglini and the OTTOmani association.
He also teaches guitar, ensemble music and arrangement in schools, and he is the curator and art director of the Fonoteca of the Nonantola municipality, organizing and presiding over all the calendar events.