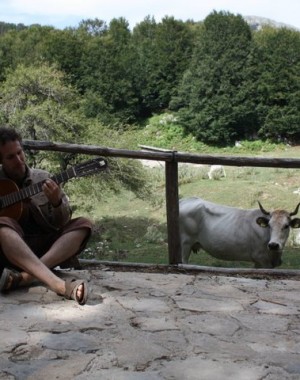 Biagio Marino (Eboli, 1971)
He graduated in Philosophy at the UniversitàdegliStudi di Perugia, and in Jazz Guitar (three-year first level degree plus two-year second level degree) at the Conservatorio "G.B. Martini" in Bologna.
He won the third prize in the "PremioLandi" music competition.
He is active as performer and composer across different musical genres: rock, jazz, experimental music, soundtracks and pop music. He performed at a number of festivals (Gubbio Film Fest, Immaginaria, Rock in Terza, Umbria Libri, GiornataMondiale del Jazz, Bologna Jazz Festival, Hey Joe, etc.) and musical events.
He authored the original soundtrack for the theatrical monologue L'uomocherecitò se stesso,directed by GiuliettaMastroianni, and the original soundtrack for the documentary film Il cerchio, la curva dolce, le ascesechesuggeriscono la spirale, on the life of Gerardo Dottori, created and directed by GiuliettaMastroianni, and commissioned by the Perugia City Council.
Since 2013 he has played in the Big Bandof the "G.B. Martini" Conservatory in Bologna.
In 2017, with the band "Calima" he is selected among the outstanding candidates for the prestigious Ciampi Award, and invited to perform on the opening night of the event at the "The Cage" theater in Livorno.
He is currently the leader of the "Bj Jazz Gag" band, active locally in Bologna. He is also a guitar teacher at the "Centro SocialeCulturaleRicreativoAnnalena Tonelli" in San Lazzaro di Savena (Bo) and a Guitar and Ensemble Music teacher at the "ScuolaPopolare di Musica Ivan Illich" in Bologna.