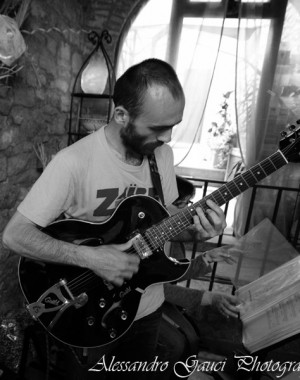 Martino Rappelli (Livorno, 1978)
A self taught guitarist, he then studies with Eugenio Sanna, Mauro Orselli, Dimitri Grechi Espinoza, Luigi Gagliardi, Alessio Menconi, Franco Ceccanti, Luigi Tessarollo, Roberto Sbolci, Ezio Bosso, Stefano Zorzanello. He attends seminars with Piet Swertz (composition), Paolo Silvestri (arrangement) Ennio Nicotra (orchestral direction), Paul McCandless (arrangement and composition).
He completes the jazz courses of the Livorno conservatory with top marks, studying mainly with Mauro Grossi. In 2014 he wins a scholarship from the "Associazione Nicola Paoli" of Viareggio for the best arrangement of a rock song for chamber orchestra. With the band "Kuku" he reaches the final stages of the Fara Music Festival in 2013, he takes part in the "SuoniInauditi" contemporary music event and in the "SuoniMediterranei" jazz festival in 2014, and he participates in the fourth edition of the "International Jazz Day" in 2015.