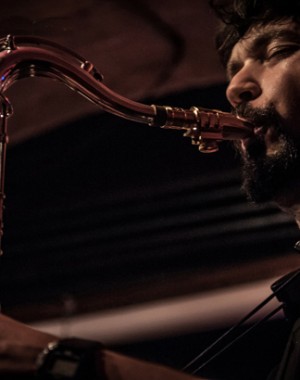 Saxophone player and composer.
Leonardo Radicchi graduated fromthe Berklee College of Music in Boston, where he was also selected as Student Ambassador with his band "Creative Music Front". He studied with George Garzone, Ed Tomassi, Hal Crook, Bill Pierce, Greg Osby, Dave Santoro.
In Italy he studied mainlywith Maurizio Giammarco, RambertoCiammarughi, and Michael Rosen.
He has performed in many festivals and venues in Italy and abroad with various groups and musicians: Casa del Jazz [Roma], Villa Celimontana Jazz Festival, VieterboJazzUp, EcoJazz, Fano Jazz, The Shrine [NY], Conservatory Monterrey [Mexico],Berklee Performance Center, Auditorium S. Cecilia [Roma].
He shared the stage with ElielLazo, Jose Andres Marquez, Tiziano Bianchi, Greg Fiengold, Ulrich Gumpert, SilkeEberhard, Francesco Cusa, Marta Capponi, CettinaDonato, EleonoraBianchini Roberto Gatto, SimonaBencini, Mario Nappi, ManuelMagrini.
He has released two albums as band leader: I hear voices in my head (GME-2011) and Riot (GME-2013), and featured in several others as sideman. He's been part of the German collective "Tonarbeiten", recording with them the album Wrong Turn swing (TBE-2013). He was selected for the annual compilation Jazz Revelation Records (USA) Octavesin 2010. He came third in the competition for composing music for the movie "Bridges and Towers", competition chaired by EnnioMorricone, in 2012.
Between 2014 and 2016 he worked with Emergency as a volunteer in the Ebola project (in Sierra Leone) and the War Surgery project (Afghanistan).
Active also as a composer, the prima of his symphonic poem "Il Conte di Montecristo" has been performed by the Corciano Festival Orchestra in 2016.
As a composer, he was rewarded by the Fondazione GiovanniPierluigi da Palestrina for the original composition "Opus Nigrum"first performed at the festival dedicated to the memory of this Renaissance composer (Palestrina Festival 2017) side by side with original compositions by TonuKorvitz e Christopher Cerrone.
In 2016 he also released his book "In Fuga", published byRupeMutevole (Parma 2016). The book was reprinted in 2017.