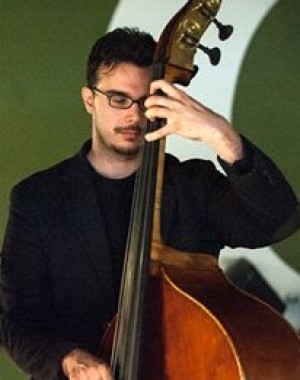 He majors in double bass from the "Luigi Cherubini" Conservatory of Florence, while at the same time studying privately with Riccardo Donati and Alberto Bocini, both first double basses in the Maggio Musicale Fiorentino Orchestra. He also has a Minor in Experimental Composition from his studies with Paolo Furlani.
In 2015 he completes a master level course in Performance with Enrico Fagone at the Italian Swiss Conservatory. At the same time he attends the ensemble courses at the Valdarno Jazz School with Daniele Malvisi, studies privately with ArezTavolazzi, and attends an annual seminar with TinoD'Agostino and Sergio Bellotti (Berklee College of Music).
In 2017 he is selected to participate in the Siena Jazz Master In Jam with trombonist Glenn Ferris and sax player Logan Richardson, and wins the scholarship for the best students of Siena Jazz 2017 summer seminars.
He has performed with a number of orchestras, including the National Orchestra of Italian Conservatories and the Swiss Jugend Symphony Orchestra.
He took part in recording sessions and performances for the Italian TV (RAI) and the Italian Swiss TV (Radio TelevisionedellaSvizzeraItaliana).
Jazzwise, he has an intense studio and live activity, working with a number of Italian and International musicians. He has authored with Marco Poggiolesi the album "Tandem", published by Philology Records. And the album "Tandem: A RuotaLibera", published by Dodicilune, which got a positive feedback by critics. His song "Memories" his selected for the "Italian Jazz Vol. 1, the 50 best songs" collection.
He took part has guest jazz artist at the Bass 2014 convention in Amsterdam.
He is permanent member of the Francesco Cusa formation "Francesco Cusa&The Assassins", of the FCT (Francesco Cusa Trio), of Leonardo Radicchi's "Arcadia Trio"and of the Simone Basile quartet.
http://www.ferdinandoromano.com