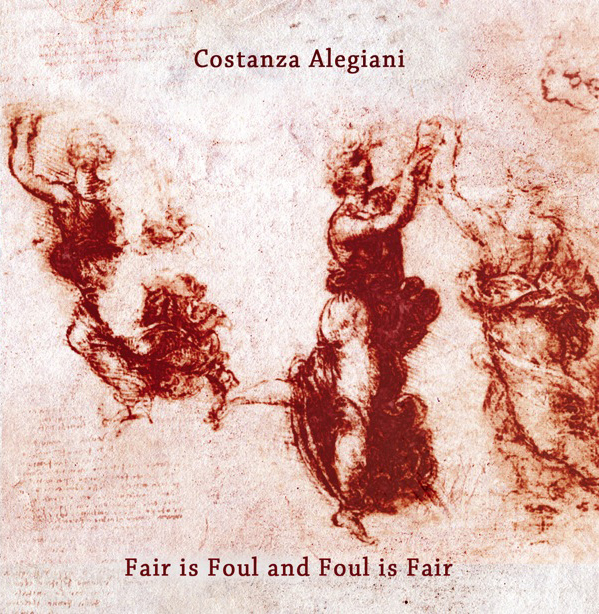 Fair is Foul and Foul is Fair is a project that I developed and conceived while I worked at Koninklijk Conservatorium in Bruxelles, where I met great musicians with whom I shared this artistic path and recorded the album Fair is Foul and Foul I Fair (June 2013).
This project (initially born as an homage to Giuseppe Verdi on the bicentenary of his birth) is inspired by Verdi's Macbeth and Othello, and in particular by some characters of these two operas.
The ambivalent and paradoxical nature of Fate - embodied by the witches' words in Macbeth Fair is Foul and Foul is Fair - is the leading theme of the musical path. Fate looms over each of the characters; they question their own destiny, which is often inescapable, and they think about their own condition and their choices. The intensity of this inner struggle is the throbbing heart of every tune, where in I experiment several musical forms (the Song, the Recitativo and Aria, the Suite, the extemporary Improvisation) that describe the drama of the character, from an interior point of view.
The Choir of the Scottish Refugees of Macbeth (as captured in Alas poor country. A messenger and Alas poor country. Refugees), exposes the civil and political condition of the exiled people, victims of a fate that seems to be against them but which they will eventually overthrow. On the other hand the character of Desdemona - to whom I dedicate the tunes Desdemona's Dream, An Old Song and Willow Song. Desdemona in her room - feels her forthcoming end. She comes to a tragic awareness of herself and her fate, by accepting it. Behind the scene, the three witches of Macbeth, reminiscence of the ancient Fates, stay silent, while they conduct the plot. They embody the inescapable and enigmatic Fate, just as life itself is. They can predict Man's Fate, but they cannot determine it: they predict glory, power and victory to him, but at the same time they make fun of him, by revealing the unexpected flip side of the coin of chance.
Musicians:
Costanza Alegiani - voice e conduction
Jan Daelman - flute
Ben De Greef - alto sax
Thomas Jillings - tenor sax
Thijs Troch - piano
Daniele Cappucci - double bass
Armando Luongo – drums
All compositions and arrangements by Costanza Alegiani, except 1-5-7-10 improvised by the musicians
Recorded by Daniel Léon at Igloo Studio, June 28th2013 Bruxelles Belgium
Mixed and Mastered at Monk Studio by Simone Sbarzella
Track List
1. So foul and fair a day I have not seen ( improvisation I )
2. Fair is foul and foul is fair (C.Alegiani)
3. Alas poor country. A messenger (C.Alegiani)
4. Alas poor country. Refugees (G.Verdi)
5. Intermezzo ( improvisation II)
6. Desdemona's Dream (G.Verdi)
7. Let me live tonight ( improvisation III)
8. An old song (English folk song)
9. Willow song. Desdemona, in her room (G.Verdi)
10. Chi é quell'uomo che può tenere in pugno il suo destino? (improvisation IV)
Listen on Costanza Alegiani's youtube
https://www.youtube.com/watch?v=1Ef-V9dUcV0&feature=youtu.be
http://www.artearti.net/magazine/articolo/fair-is-foul-and-foul-is-fair-macbeth-desdemona-e-il-destino
http://www.linkiesta.it/blogs/l-onesto-jago/musica-il-compleanno-di-shakespeare
https://www.improvvisatoreinvolontario.com/press/76/fair-is-foul-and-foul-is-fair-su-alias-manifesto
http://letteratitudine.blog.kataweb.it/2014/12/08/improvvisatore-involontario/


Buy the Cd on Jazzos
http://www.jazzos.com/detail0.php?prod=II0042